Events, News & More
2018 Annual Member Meeting – REGISTRATION CLOSED Contact Scott Bethmann 904-955-1303
Posted: 12/11/2018
https://clear-give.com/egive3/index.cfm?page=eventDetail&ID=441001003&eventSessionID=12314&LocID=441001&refresh=true
REGISTRATION CLOSED
2019 MEMBERSHIP DRIVE
Posted: 12/4/2018
"CHARGE TO LARGE"
No penalty for being early, join your USNAAAJAX CHAPTER today! Click here: 2019 MEMBERSHIP LINK
We had 230 members this year,2018, but in order to qualify as a LARGE Chapter we need in excess of 300 paid members. Being recognized as a Large Chapter allows our chapter representation and voting privileges at the Board of Directors semi-annual meetings. Sign up now and be part of the fun as we grow and represent our alma mater in the Jacksonville area.
USNAAAJAX CHAPTER ANNUAL MEETING-11 DEC 18
Posted: 11/4/2018
USNAAAJAX CHAPTER
2018 ANNUAL MEETING
REGISTRATION CLOSED – Please contact Scott Bethmann 904-955-1303
When:            Tuesday, December 11, 2018
Where:           Commons at Fleet Landing
1 Fleet Landing Drive
Atlantic Beach Florida 32233
(Entry via Security Gate, off Mayport Road)
Time:  1800-2000
1800-1830 Cocktails (no host bar) Beer $2.00, Wine $3.00, Mixed $4.00
1830-1900 Dinner
1900-2000 Program
Event:   2018 Annual Meeting Includes a full course dinner buffet of Shrimp Cocktail, salad, Entrees: Chicken or Salmon Picatta with Arugula salad: marinated and Grilled Ribeye with a peppercorn cream sauce: Pan steamed with charred tomato salsa, French Green Beans & pearl onions, herbed baby carrots. (no dessert just finger food on the buffet)
Program
General Meeting
Welcoming Remarks
A Year in Review
Election Process and Results
Introduction of 2019 Officers and Board Members
National Campaign and Trustee Report
Treasurer Report
2019 Membership Drive – Charge to Large Chapter
2019 Way Ahead
Open To:       USNA Grads, Families, Parents Club and Guests
Cost:        $24 per paid 2018 Local Chapter member and Guest
$29 for non paid 2018 Local members and their guests
Click on this link ANNUAL MEETING REGISTRATION to pay and register online by COB 6 Dec18.
or Fill out form below and mail it NLT 5 Dec 18. Make check payable to: USNAAA Jax Chapter and send to: CAPT Scott Bethmann, c/o USNAAAJAX, 1977 Seminole Rd, Atlantic Beach, FL 32233.
Questions: Contact Scott Bethmann at (C) 904.955.1303 or tsbethmann@gmail.com to let him know you have sent a check.
Name: ___________________________ Class____
Local Chapter Member:  Yes____$24    No_______$29
Ph#_______________
Guest Name:_______________________(Same price as category above $24 or 29)
Total amount enclosed $__________ Check #_____
Mail NLT 5 Dec 2018.
Send an email to Scott Bethmann at tsbethmann@gmail.com, Subject line: ANNUAL MEMBER MEETING PAYMENT BY CHECK.  Include this form information in the body of the email after you have mailed the check so I know to look for it and count you in our meal numbers.
JOB SITE BLOG
Posted: 7/2/2018
Let's start to use this blog site to allow members to either load a job that they have with their company or a resume if they are looking.  If you are posting a job please give a brief description of the position, when the position is going to be available, your contact info and if possible please give a target compensation range…this saves the looker and the receiver alot of time and angst when reviewing the level of position.  Let's try to keep this at the 03 and above level but if you are looking for maybe a new grad or intern then by all means go for it.
JOIN A COMMITTEE OR OUR BOARD OF DIRECTORS!
Posted: 6/14/2018
Members of USNAAAJAX:
Here is your chance to hold one of the four positions as a USNAAAJAX Chapter Board of Directors. As a member of the Board you will be required to be a Chairperson or Deputy Chairperson for one of the following Committee as written in the Bylaws: Wall Climbers (networking), Events/Social, Volunteer, and Fund Raising.
The new interest with a robust membership can only maintain itself with participation throughout our membership. We need your help to make sure we have the resources committed to supporting our Mission and the Naval Academy.
In addition to this search for Board Members and Committee Chairs, we are also hoping you will send us your name with the committee you would most likely enjoy working with throughout the year (multiple choices are allowed), so that we can provide that support to the Chairs right away. Join us to build our social network and embrace our Navy links!
We would like to have your inputs as soon as possible…so if you are reading this and there is no completion date then there is still room on the board….
Email tsbethmann@gmail.com with your information and desires to serve on the board or in a committee!
Thank you for your continued support of your JAX Chapter and USNA.
Intl. Chapter Officers Forum Meeting
Posted: 5/27/2018
We wanted to share this update from the 10 May 2018 ICOF Meeting, provided to us by our chapter president, Mike Borns.
BACKGROUND: One time a year the ICOF meeting is hosted by USNAAA at Annapolis, in early May. Chapter Presidents or other chapter representatives attend and are provided updates. This is a quick summary of the most recent meeting. In the near future, if you go to the national site, you will be able to view all the slides that were presented.
* Whose In? 79,500 members, 101 chapters to include newest in South Korea, 84 Parents' Clubs, 10 decades of classes represented, oldest living grad is ADM Keates '35. ADM Locklear '77 is new Chairman of Board of Trustees replacing ADM Natter.
* New Other Chapter Trustees include Research Triangle N.C, Oregon, and Jacksonville with Scott Bethmann '80 the Trustee. All will serve three year term.
* Chapter Memberships and Websites: Lots of discussion about this and focus on Word Press as a Website applications and Membership enrollment and accounting through national. Your local board will be looking at this and any opportunity to improve our website and ability to track membership.
* Large Chapters: Discussion on this and how national tracks local chapter membership. Based on Jax recent membership drive getting into the category of " Large Chapter" and associated Large Chapter Trustee is within reach. It is something your board will be putting some focus on. Annual counts are done by national with the last triennial count done in 2017.
* National Membership: Big challenge is updating personal information. If you haven't recently hit the national site to check on your personal information it might need some updating. Go to USNA.com
* Alumni Center: It's coming. It will be across the road and outside the yard from the baseball stadium. Lease in place for property which is government owned, plans being finalized. Will offer center for alumni to congregate with view of Academy grounds to the East.
* Commandant Update: Current commandant is CAPT Chadwick '91 who is entering second year. This is two year assignment. He stood in for Supe who was at NAPS graduation. His presentation was pretty global but notes of interest:
** Drug Issue this past year: Issue brought forward by midshipmen which is highpoint of otherwise low point.
** Construction: Parking garage done and diggers and fillers working on new CYBER Center. Improvement of Ricketts Hall underway to allow for more space for NAAA staff.
** Third of new class has one year of either college, foundation prep school or Naps.
** 37% of class minority.
** Service Selection is now "Service Assignment." This means working with mids through the four years to determine best fit while mids work with various warfare specialty committees. 25% Marine, 94.7% Unrestricted line, 99% first choice.
*** A more detailed one hour presentation given on this by Director who runs the program.
** N Star Competition. Fall set not so good but in spring numbers improved.
** Smart grads this year with one Rhodes and a number of other prestigious scholarships.
** "Positive Pressure with Purpose," is the watchword from administration.
** Grad rates at 88% or a little higher.
* Foundation Fund Drive: $400 million dollar drive will go public soon. To date about $330 million raised through significant donors in more quiet fashion. More to come on this soon.
** Presentation given on Foundation Scholarship Programs that send prospective candidates to one year of college/prep school which is different than NAPS. The selected schools apparently put up some money, the Foundation does and then the families put some money to it as well. Frequently these are recruited athletes in sports that are not played at NAPs.
* Distinguished Chapter Awards: First year with winners being Hampton Roads, Upper Midwest, North Carolina, and Oregon. This will be an annual program going forward.
* Chapter Training: In this part of the meeting best practices for chapters and engagement are shared, information from individual chapters such as Navy Notre Dame at San Diego and what is happening with such an event, and chapters get to have back and forth exchange with national administrators involved in engagement.
* HOW TO GET IN: Great presentation given by outgoing "Other Chapter Trustee," who served on Admissions Committee on Board Of Trustees. His observations were based on three years of interface with Admissions and watching what goes on. So this is not Admissions 'Dean Latta info, or necessarily BGO info. Just one observer thinking about some basic rules of thumb that might be helpful to young people. They are:
1. FILL OUT ALL THE FORMS, AND DO THEM COMPLETELY. In part this can become some of the weeding out process.
2. MAKE SURE YOU IDENTIFY EVERY SOURCE OF NOMINATION THAT YOU ARE ELIGIBLE FOR AND APPLY. That would include all congressional sources through categories such as presidential nominations. Don't limit yourself.
3. DON'T GIVE UP.
4. PATIENCE.
5. GO EARLY.
* If anybody has any questions of what goes on at these meetings give me a shout. Eventually portions of it will be posted on National Alumni Association Website under ICOF. Thanks for your support of our Academy and the local Chapter.
-Mike Borns '70
USNAAA Jax Facebook Page
Posted: 5/8/2018
Were you at the 03MAY meeting? Do you know of a fellow alum who would want to attend a meeting in the future? If Facebook is your preferred means of information gathering/sharing, go like and follow the USNAAA Jax Facebook page at http://jacksonville.usnachapters.net/2018/05/08/usnaaa-jax-facebook-page/
We hope to have three times the amount of members at our next meeting…all classes welcome! See photo below.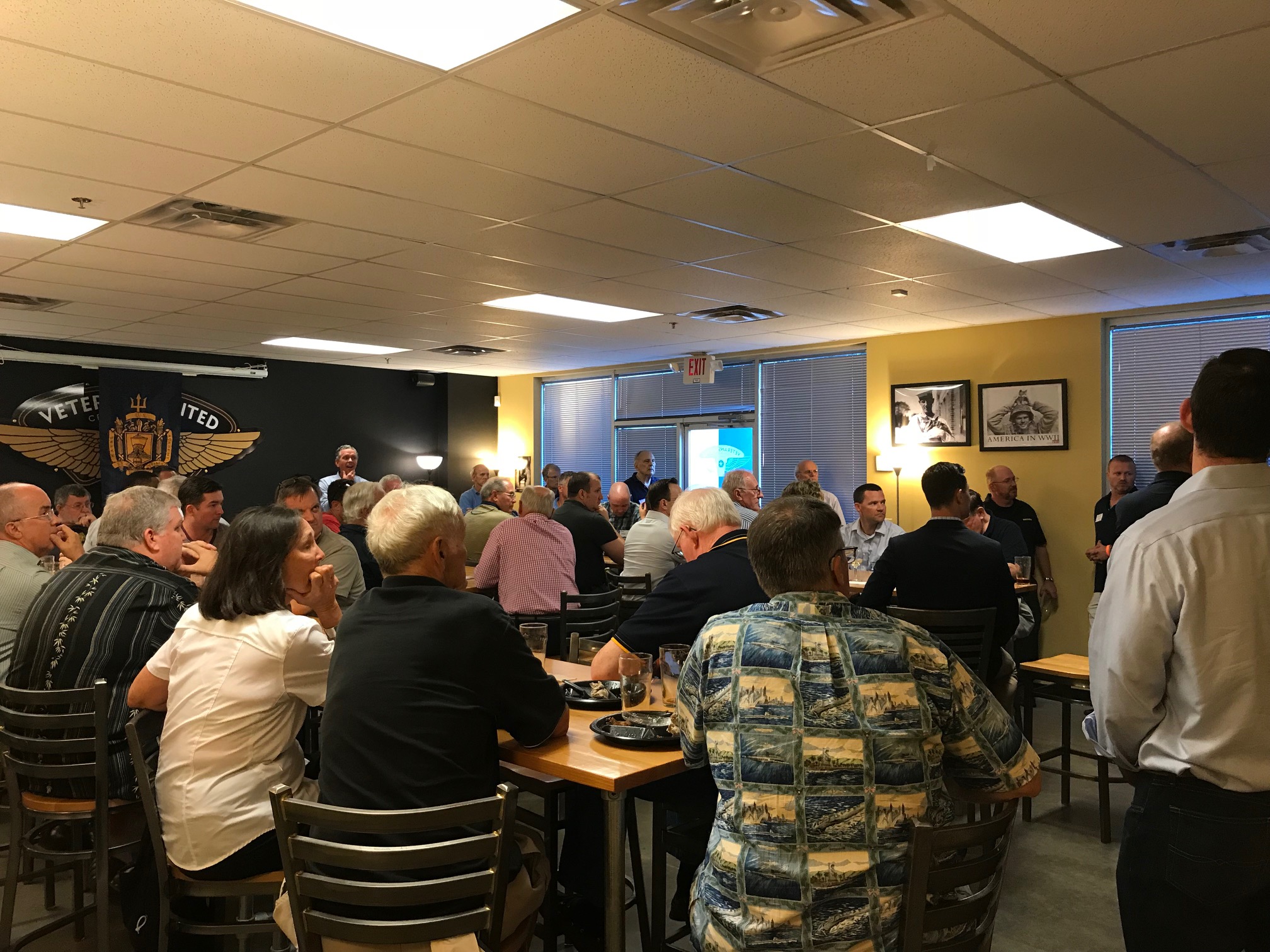 SACC is coming to JAX in Spring 2019
Posted: 1/30/2017
Great news! SACC (Service Academy Career Conference) is planning on coming to Jacksonville, in March 2019. Please visit http://Sacc-Jobfair.com for more information.